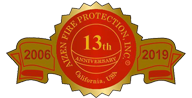 services
Wet Extinguishing System
Automatic Extinguishing System is known also as Fire Suppression System or
Kitchen Hood Fire System.
We service, repair, install and sell restaurant fire systems and industrial Fire Systems, according NFPA 96, 17&17A, and local authority having Jurisdiction.
Automatic Extinguishing System
Liquid Fire System with wet agent, UL 300 standard (Underwriters Laboratories, Inc.) for kitchens.
Industrial Fire System
The Industrial System is a Dry chemical – powder system, for Vehicle Paint Spray Booth and Paint Spray rooms UL1254 (Underwriters Laboratories, Inc.) standard.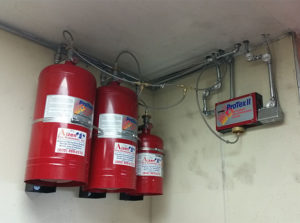 Fire Extinguisher
We service, sell and install all types of Fire Extinguishers, according to NFPA 10,
and local authority having Jurisdiction.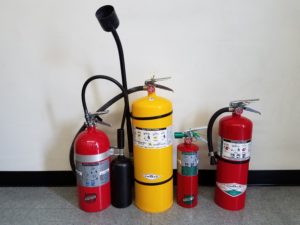 Dry Chemical and Dry Powder
Multi-Purpose A.B.C., B.C., Purple K…
Wet Chemical
Water, K-Class, Carbon dioxide (Co2)…
Special Types
Halon 1211, Halotron, AFFF and FFFP (Foam), Manual/Automatic Fire Extinguisher…
Accessories
Fire Extinguisher Cabinets, Extinguisher Brackets,
Extinguisher Signs and Exit Signs, Special locks and
Covers, Fire Hoses, Fire Axes, Hood Filters, Gas Valves
(Mechanical and Electrical), Pull guards, Nozzle
Caps and Seals …
Hood Cleaning
Aizen Fire Protection has its own dedicated team of professional
insured hood cleaners. The cleaning includes all
parts of the hood: Filters, Plenums and Ducts. New
installation and repair of Swap Coolers (Make up Air)
and Exhausts are available; all work is done
according to NFPA 96.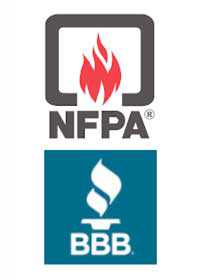 FOR YOUR SAFETY WE ARE FULLY INSURED AND CARRY WORKERS' COMPENSATION.
We are member of NFPA (National Fire Protection Association), and the B.B.B. (Better Business Bureau).